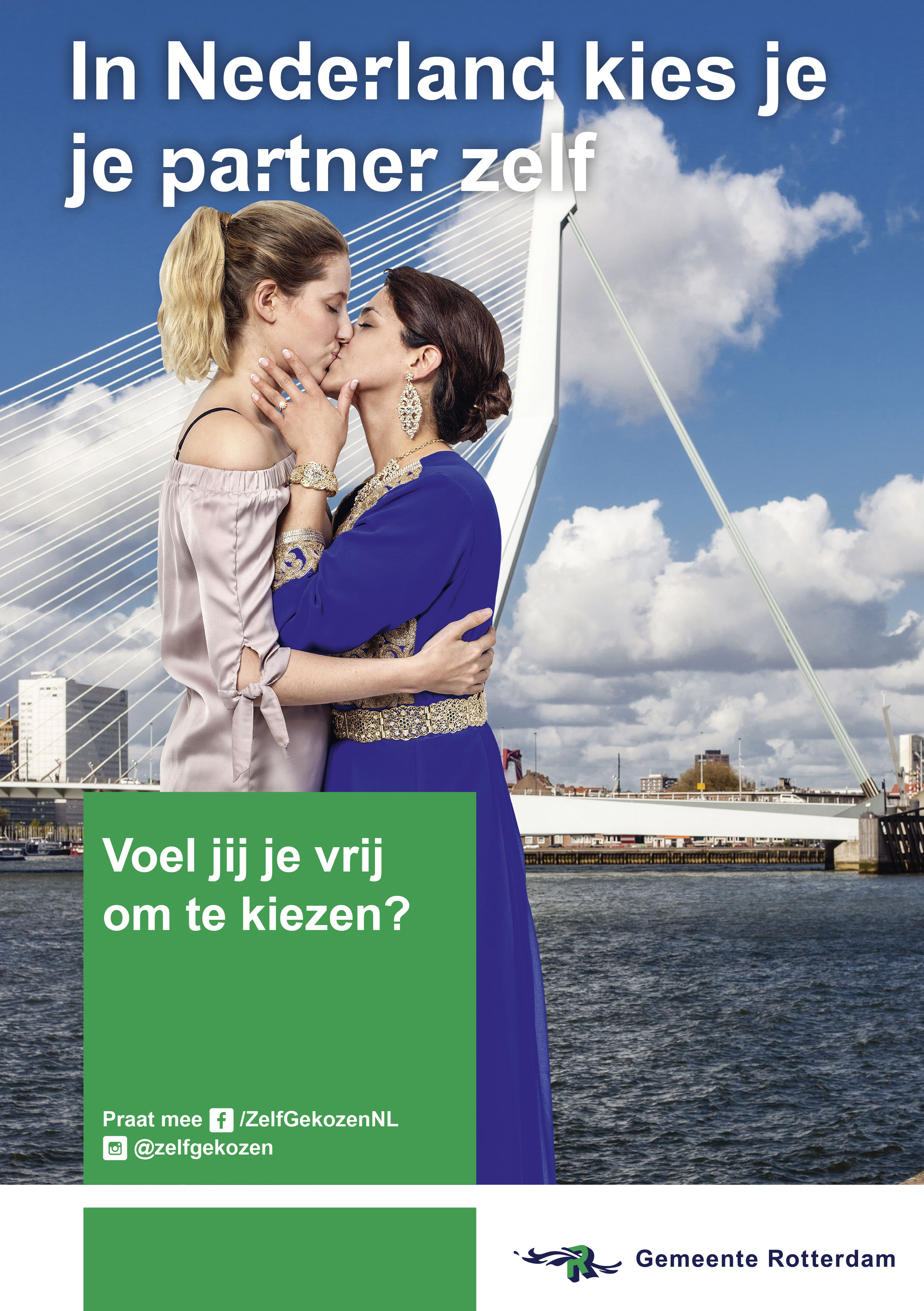 Zelf kiezen wie je partner is, moet vanzelfsprekend zijn voor iedereen. Rotterdam start een campagne om mensen te bereiken die door hun omgeving beperkt worden bij het zelfstandig kiezen van een partner.
Die groep loopt zelfs het risico slachtoffer te worden van eerwraak, huwelijksdwang en andere vormen van onderdrukking. Met de campagne: 'In Nederland kies je je partner zelf' zet Rotterdam de eerste stap om vrije partnerkeuze bespreekbaar te maken.
#zelfgekozen
De campagne start op woensdag 24 mei. Wethouder Schneider hangt dan posters op bij het Centraal Station. Uiteindelijk hangen de posters twee weken lang op zo'n 50 plekken in de stad. De campagne loopt daarna online door op www.zelfgekozen.nl. Via social media kan iedereen meepraten door de hashtag #zelfgekozen te gebruiken in verhalen op Twitter, Facebook of Instagram. In juni is er ook een debat over vrije partnerkeus. Meer hierover is te lezen op rotterdam.nl/vrijheden.
'Voel jij je vrij om te kiezen?'
'De campagne start met prikkelende posters. Daarna willen we in gesprek met die moeilijk bereikbare groep van mensen die niet zelf mag kiezen en de mensen die anderen belemmeren in hun vrije partnerkeus. Door het gesprek aan te gaan wil ik ze overtuigen dat het normaal is dat vrouwen hun eigen partner kunnen en mogen kiezen. Of het een man of vrouw is, van welke afkomst dan ook', zegt wethouder Schneider van Integratie.
Steun
Bij de stichting Dona Daria, Femmes For Freedom en via het programma Veilig Thuis Rotterdam kunnen vrouwen die zich beperkt voelen in hun vrije partnerkeuze hulp en ondersteuning krijgen.